Press Room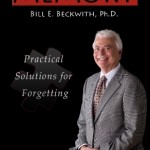 Many people who have heard him speak call Dr. Bill E. Beckwith "That Memory Guy." His dynamic teaching methods are simple and immediately useful. He distills complicated information on memory, the brain, and aging into effective and easy to understand techniques. He promotes actions that allow people to control their own destiny, enjoy their lives, and stop worrying about their memory.
For more than 30 years, Dr. Bill E. Beckwith has helped people of all ages take charge of their memory. He draws on knowledge as clinician, researcher, and personal experience with forgetting. He helps audiences understand how human memory works in everyday life and how to plan ahead for a more enriched life.
Bill's presentations cover the following questions:
What is a senior moment?
How can I reduce forgetting?
How do mental aerobics really work?
How does aging shape memory?
Is aging synonymous with memory loss?
How can I make my memory more efficient?
What is successful aging and why start my plan now?
How does forgetting relate to Alzheimer's disease?
How do I know whether I am at risk for memory decline?
How do I manage if someone I care for has memory loss?
With a useful road map for improving memory, Bill helps audiences understand the real benefits of mental stimulation and why it is not enough. He helps audiences plan for inveitable changes in short-term memory and tells how to live a successful life with an imperfect memory.
Bill's presentations are dynamic and entertaining. He will customize his program for the needs of any audience. Books may be included as part of the audience fee or sold separately.
Clients who loved Dr. Beckwith's Program:
Center for Positive Aging
Lee Memorial Health System
Florida Department of Transportation
Shell Point Retirement Community
John Knox Village
Cross Country Seminars
Renaissance Academy
Florida Gulf Coast University
International City Managers and Mayors Association
To book a speaking engagement,
please contact Pamela Travis at
Memory Management
239-851-1968
memoryseminars@aol.com