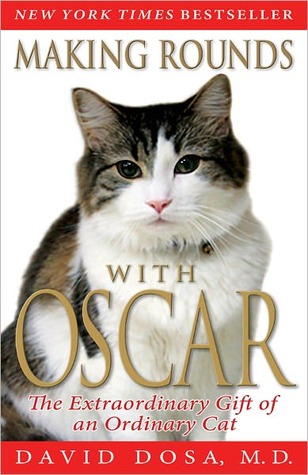 I just finished reading a very interesting book that was suggested by a couple of my clients.  They are aware that I love cats.  I recall the empty feeling that Pamela and I had between cats.  Pepper, our cat of 22 years, died and we spent a year and a half without another cat.  Our home lacked completion during that time.  We are so pleased to have Gracie and Vanna add their energies to our home.
Making Rounds with Oscar is set in a nursing home. David Dosa, the author of the book, and a special cat named Oscar are the two main characters in this memoir.  David Dorsa is the attending physician at a nursing home in the northeast.   Being classically trained, he begins by being skeptical about the ability of a resident cat, Oscar, to sense and to seek out residents of the facility who are in their last few hours of life.
The story evolves as David comes to understand the reliability of Oscar to not only sense death but to be present for the dying resident and family members.  Oscar's presence provides all with a sense of comfort and compassion at a difficult time.  There are many rich descriptions of families coping with dementia and end of life issues as well as facing the need to let go of someone they love deeply.  It is a lesson in how to be with rather than how to do for someone – the essence of palliative care.
Dr. Dosa avoids maudlinism and instead shares many of his personal and professional struggles with life and death.  The case histories are reminiscences that not only allow Dr. Dosa to grow but also display familys' ability, in part thanks to Oscar, to heal after the death of a loved one.  Furthermore, Dr. Dosa reveals that he is suffering from a progressive chronic disease that allows him to deal with his patients as more than another case study or research project.  We get to see someone who is more than an observer looking in.  He has to look out from within his own deteriorating condition.
The book is short and engaging.  I advocate being proactive rather than reactive about aging and progressive diseases of aging.  It is never fun to confront disability, death, and nursing homes.  Making Rounds with Oscar provides all of us a way to think through and discuss the difficult issues of dementia, skilled care, and death in an approachable compassionate way.  I recommend Making Rounds with Oscar to anyone who has ever or ever will be touched by disabling/dementing illness or death.
Tags: